---
Re-connecting the heart of Humanity
with the heart of Nature
---
Once upon a time, the Elemental kingdom and the Human kingdom coexisted peacefully together in the same realm.

Then something happened, and the Elementals shielded themselves from further harm, and seemed to disappear.

This is the story of how both kingdoms will be reunited back into one Divine realm again. And So It Is.

---
"... to me, a tree is more beautiful than a cathedral.
The tree is the kingdom of god on earth. A tree is the pure land."
~ Thich Nhat Hanh
---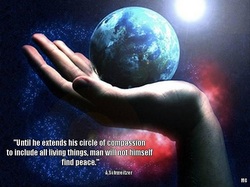 Until he extends his circle of compassion to include all living things, man will not himself find peace."
~ A. Schweitzer
---